Coffee bean purchases of RM100 and above will enjoy FREE delivery nationwide.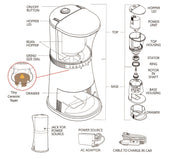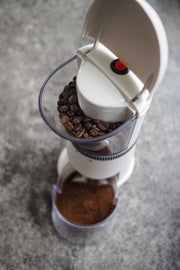 PUREFRESH PRO ELECTRIC COFFEE GRINDER (ESPRESSO & FILTER GRIND)
Product Info
the Pure Fresh coffee grinder is designed to offer uniform grind size for pour over / automatic drip, or percolator / french press & espresso from its solid in-place conical burr ceramic grinder.
It retains the maximum flavor and aroma of your favorite whole coffee beans from the low speed grinding mechanism. 
grind size consistency
the rotating part of the ceramic grinder does not rock while rotating and that regulates uniform size of grounds that passes through. 
low speed and low heat- raise grinding
80rpm low speed grinding take approximate 2 minutes for one serving while the grinding the finest grind. 
easy access to clean the ceramic grinder
ceramic grinder includes a stationary part and a rotating part. the advanced design in configuration offers the easy access to clean both parts and the housings around that almost all the other electric coffee grinders cannot do. 
17 settings for grind size selection
variety of selections ensures you to find the proper grind size as wish. 
compact size and light weight
22cm (9 inch) height and 628g (22 ounces) weight only. 
low power consumption
DC 12V power supply and less than 25 watt. power consumption. 
ONE year warranty for motor ONLY. 
color / WHITE ONLY.